Версія для друку
Meeting of the Chairman of the Constitutional Court of Ukraine
Yurii Baulin with Ambassador Extraordinary and Plenipotentiary of Hungary to Ukraine Mr.  Ernő Keskeny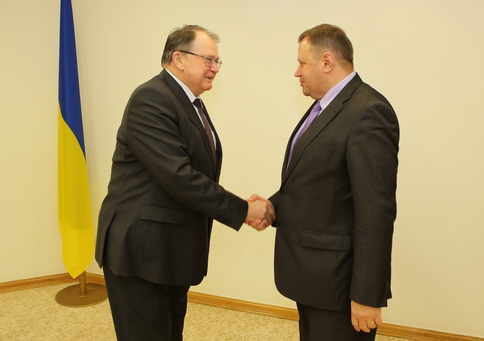 On December 12, 2016 the Chairman of the Constitutional Court of Ukraine Yurii Baulin held a meeting with Ambassador Extraordinary and Plenipotentiary of Hungary to Ukraine Mr. Ernő Keskeny.
At the meeting the interlocutors noted the important role of bilateral cooperation between Ukraine and Hungary in general and in the sphere of ​​constitutional justice in particular. Ernő Keskeny described briefly the state of bilateral cooperation between Hungary and Ukraine, stressing that Hungary became the first among other States that opened its diplomatic mission in Ukraine and the 25th anniversary of the establishment of diplomatic relations between Hungary and Ukraine has been recently celebrated. The Ambassador pointed out that Hungary supports the European choice of Ukraine and noted that recently the political dialogue between the two countries has been significantly intensified.
During the meeting the Chairman of the Constitutional Court of Ukraine informed the guest of the principles and fundamentals of the constitutional justice in Ukraine, told about the amendments to the Constitution of Ukraine as to justice that took effect on September 30, 2016, and the new competence of the Constitutional Court, which strengthens the mechanism of human and citizen's rights and freedoms protection, as well as enhances independence of the judiciary. The next step is expected to be an adoption of the Law of Ukraine "On Introducing Amendments to the Law of Ukraine "On the Constitutional Court of Ukraine". The Constitutional Court of Ukraine has already started receiving constitutional complaints, but the procedure for their review will be established only in the expected law.
During the conversation Yurii Baulin described briefly the cases pending the Constitutional Court of Ukraine, and stressed that special attention should be paid to the cases on social issues.
At the end of the meeting, the parties thanked each other for meaningful meeting and interesting discussion and stressed on the need to continue the comprehensive dialogue between Ukraine and Hungary. Chairman of the Constitutional Court of Ukraine presented Ernő Keskeny the Constitution of Ukraine.