Версія для друку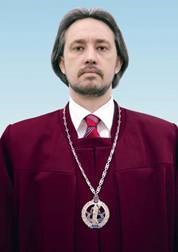 Сліденко І. Політизація конституційних судів: причини та наслідки (тези). Конституційне правосуддя та політика: Міжнародний конгрес європейського та порівняльного конституційного права (Регенсбург, 14-15 жовтня 2016). Кошиці, 2020. C. 221-223.
Анотація:
Публікацію присвячено проблемним питанням, пов'язаним із політичною / неполітичною природою конституційного контролю. Наголошується, що зовнішні фактори впливу на орган конституційного контролю також є дуже важливими в разі його політичної упередженості. Для ефективної деполітизації органи констиутційного контролю мають бути захищені від зовнішнього впливу та бути наділеними достатньою автономією. Але цю автономію складно реалізувати через існуючий порядок формування такого органу в Україні.
Публікуємо матеріал мовою оригіналу.
Slidenko I. The politicization of the constitutional courts: causes and consequences (theses). Сonstitutional Justice and Politics : International Congress on European and Comparative Constitutional Law (Regensburg, 14-15 October 2016). Kosice, 2020. P. 221-223.
Abstract:
The publication is dedicated to the problem questions connected with the political / non-political nature of constitutional control. It is accented that extemal factors of influence on constitutional control body are also very important in case of its political prejudgment. For the effective depoliticization, the constitutional control bodies should be protected from extemal influence and provided by enough autonomy. But this autonomy is hard to realize because of the existing order of forming such body in Ukraine. [ТЕКСТ]